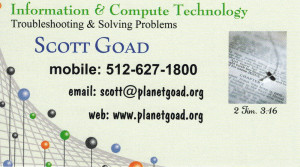 I offer IT related services for small businesses in the Pflugerville, Round Rock and Georgetown area. You can contact me via email
of SMS.
Services offered:
Domain registration
Hosting Setup/Migration
Email Setup/Migration
Virus/Malware Detection & Elimination
Website Creation
Network Troubleshooting
PC Hardware Troubleshooting
Additionally, I am an avid photographer and look for opportunities to use this skill. Feel free to contact me and discuss your needs. Here is a link to my SmugMug account.
Find out more about Scott.